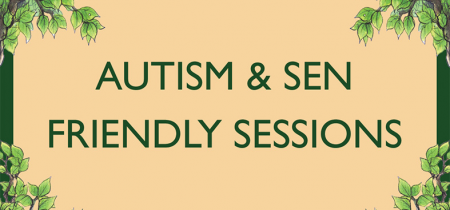 Autism & SEN Friendly Sessions - Woodland Adventure Days
Introducing to you our brand new Autism & SEN Friendly sessions. After talking to many parents of children with special educational needs or disabilties we have made the following adjustments to our Woodland Adventure Days:
- The session will be at the beginning of the day so visitors will be the first customers on site and the site will therefore be quieter
- Parking will be in our main car park for close access to the site
- Reduced or eliminated queuing time
- Reduced volume of sound/music & no microphones
- No flashing lights or unexpected events/sounds
- All staff will be trained to reflect the advice the specialists and parents have given us
Please read below for further information regarding your day:
Our Woodland Adventure Days are a 2.5/3 hour experience, the 9.30am time you have selected is for your train ride where your exciting experience will begin, all other activities will follow on from this in a one-way, covid friendly system. Please arrive 30 minutes before your train ride to ensure you are ready to board at the time you have selected. If you require the wheelchair carriage please let us know in advance by emailing enquiries@aemr.co.uk
Read more
Sorry, no tickets are currently on sale for this session.
Close Menu
Introducing to you our brand new Autism & SEN Friendly sessions. After talking to many parents of children with special educational needs or disabilties we have made the following adjustments to our Woodland Adventure Days:
- The session will be at the beginning of the day so visitors will be the first customers on site and the site will therefore be quieter
- Parking will be in our main car park for close access to the site
- Reduced or eliminated queuing time
- Reduced volume of sound/music & no microphones
- No flashing lights or unexpected events/sounds
- All staff will be trained to reflect the advice the specialists and parents have given us
Please read below for further information regarding your day:
Our Woodland Adventure Days are a 2.5/3 hour experience, the 9.30am time you have selected is for your train ride where your exciting experience will begin, all other activities will follow on from this in a one-way, covid friendly system. Please arrive 30 minutes before your train ride to ensure you are ready to board at the time you have selected. If you require the wheelchair carriage please let us know in advance by emailing enquiries@aemr.co.uk